Leia is a Scythe. She has the ability to make the blade of a scythe pertrude from just about anywhere from her body.This allows her to make her attacks extremly deadly. She is also well adeppt at fighting without having to use her weapon form.
Total Body Control- After intense and strenuous training, Leia has total and absolute control over her body. This trait allows Leia to do things that no other weapon has done before and that being able to wield themselves in their weapon form. Leia can now mold her bones and skeleton into different scythe forms:
Her Spine: Her Natural Scythe Form: (Most adept and skilled with)
Her Rib Cage: Kunai With Chain: (Most Range)
Her Arms: Boomerang Scythe: (Most Destructive)
----------------------------------------------------------------
Soul Abilities
-Soul Perception- The ability to see anyones soul. Leia's mastery of this is so high, she can spot any soul for hundreds of miles away.
-Soul Feedback- (Long distance soul perception) It allows the user to see anyones soul by feeling it with their own soul, allowing them to actually feel a soul within a certain distance. Leia's range for this technqiue is so high, she has lost count. But she knows that it can stretch further than her soul perception. (360 degree vision)
-Death's Embrace- Leia engulfs herself in her wavelengh, allowing her to converge into a warm breeze or cold wind. This allows her to move at speeds relative to that of sound, so long as she's in this specific form. She becomes intangible, and able to inflicther death soul on those she passes through, however staying in this state for too long can result in almost utter exhaustion. (During her weaker times when she had no souls, she could only hold this form for about 2 minutes. Now she can do so for about 3 hours.)
-Death's Angel- This allows Leia to apply her soul energy through any surfeace, allowing her to cause giant scythe sickles to emerge from any surface she see's fit.
-Self Resonance- An advanced Soul Resonance technique that only requires resonance with oneself. Instead of letting your soul wavelength flow into another person, become amplified and them return to you to become amplified again and so on, you will instead focus your wavelength throughout your body and have it flow to and from your own soul to amplify itself, making it all the more powerful.
-Soul Menace- An adept Self Resonance ability that causes the user to amplify the wavelength enough to be forced through any part of the body via a physical strike. It normally makes powerful and rather explosive strikes, and can be damaging to the soul, the physical body and the mind all at once. Numerous hits to a non-trained body can be fatal.
-Double Soul Menace- Two Palm: Basically just a Soul Menace used with both hands. Though it is simple, it is extremely difficult to do because of the fact that one must control wavelength equally into both hands for the best effect without messing up. Naturally, it has double the power of a normal Soul Menace.
-Soul Cypher- A custom soul ability of Leia. It allows her to cypher between the souls of people she had previously percepted. Allowing her to know where they are regardless of location, so longas they have a soul.
-Soul Shift- A custom soul ability of Leia. It allows her to "shift" her soul instantly to any location in her line of sight. (If used in conjunction with her Soul Cypher ability, she can Soul Shift herself to any person's location.)
-Soul Slash- A custom soul ability of Leia. It allows her to strike at the opponent, and from her strike emits a soul frequency that even if the initial attack misses, the soul of the person in the immediate area would feel the full brunt of the strike.
-Void Shock- A custom soul ability of Leia. Leia swings her scythe about and bashes it on the ground. From her is emitted a twisting dome that spreads out like a wave. It robs the essence of life and plagues the sensation of death about the area to all that reaches it. The range that it stretches depends on Leia's power output.
-Soul Block- A custom technique of Leia that is used mostly to counter techniques similar to Soul Perception/Feedback. If someone is to try and see, read, probe, Leia's mind or Soul, they would experience a intense and vicious jolt of soul energy. (this is a passive trait.)
----------------------------------------------------------------------------------------------------------------------------------
Death Soul- Leia's death soul is very versatile and powerful as it allows Leia the ability to perform multiple techniques. Leia's soul allows her to the power to siphon, deterorate, corrode, decay, diminish, and with enough power complete erasure or eradication of basically anything that comes in contact with her soul wavelength. She calls this the "sensation of death."Leia can even use the life/essence of things she takes, and use it to fuel or heal herself.
Reaping Soul- Once Leia has siphoned enough life/essence from other things, she can channel of it into her own soul and evolve it temprarily to a whole new height. The Reaping Soul, something she attained after her intense and rigorous training. Once she activates her Reaping Soul, Leia's entire body is ripped, blown, melted, etc clean off. This only leaves her bones intact. Her spine is then ripped from its place and becomes her scythe. Her soul wavelength then resonates to a degree of power so great that it takes the form of a dark and dreaded black wisp that covers Leia's body. It takes the form of a robe and gives Leia this appearance. Once reached, Leia is allowed more abilities, but loses the ones she already had. Unlike the death soul, the reaping soul can not siphon life etc. It can only inflict death on a much much larger scale.
(Visual Aid)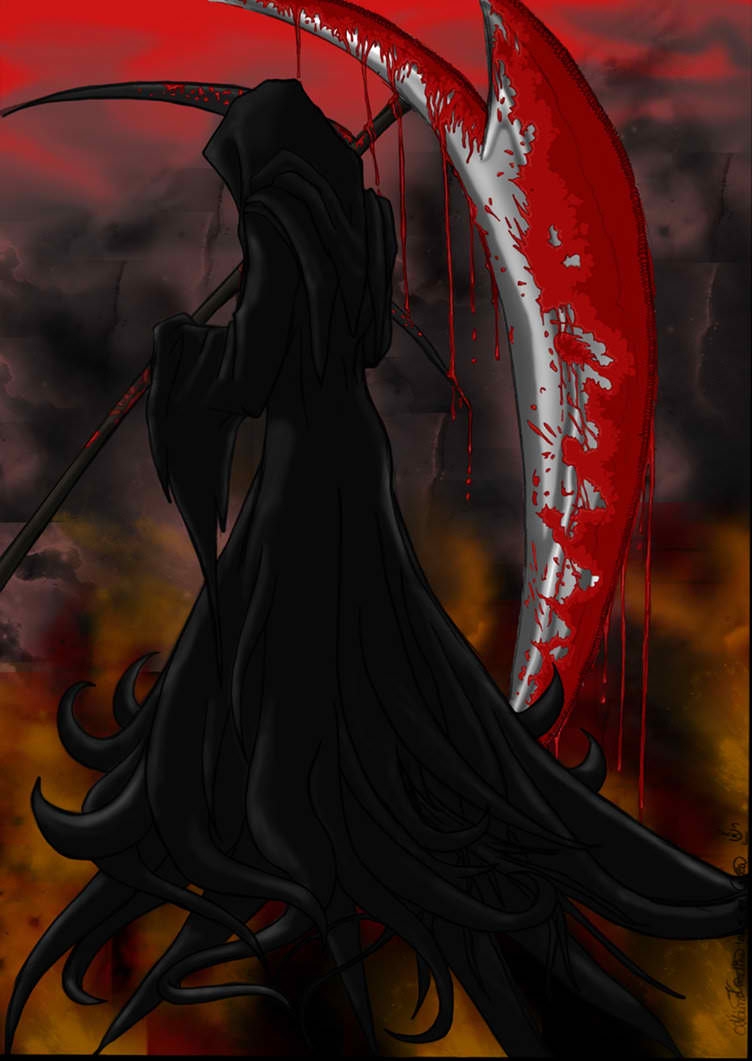 (once she runs out of essence, she reverts back to normal.)
----------------------------------------------------------
Reaping Soul Abilities
-Death Pulse- Leia pulls back her hood and reveals her bare skeleton face. Her jaws unhinge and from it is fired a blast of epic proportions. It is actually her soul wavelength concentrated, and once it makes contact with something, has enormous fatal potential.
-Wicked Hand- From Leia's blade, emits a multitude of wispy dark creatures, all.
-Call of the Reaper- Leia pulls back her hood and releases a shriek that can cause the ones who hear to experience mental trauma, physical trauma, and soul trauma.